GLAZING THE DOOR WITH GLAZING BEADS
CAUTION! Wear personal protective equipment (safety glasses, gloves, etc.) when handling and installing glass.
Hot rolled steel doors may ship with the aluminum glazing beads installed and taped in place. It is important to remember that steel doors are custom made, and therefore similar parts are not always interchangeable. Remove the glazing beads one at a time, marking the locations they came from so they can go back in the same positions.
Clean the glazing rebate, making sure all dust, dirt and oil are removed. Apply glazing tape to the perimeter of the glazing rebate. The glazing tape should be compatible with the type of glass being used. Consult the door manufacturer for the size and type of glazing tape to use.
Glazing steel doors is an instrumental part of the installation and requires precise blocking of the glass to ensure proper operation and weathertight seal. Prior to glazing it is suggested that operable panels are closed, and hardware engaged in the closed position. Add temporary shim underneath operable panel.
Determine the size and locations for the glass setting & edge blocks to center the glass in the opening. Glass should be set on two identical neoprene, EPDM, silicone, or other compatible elastomeric setting blocks with a Shore (Type) A durometer of 85+/-5. The width of setting blocks should be at least 1/8" (3 mm) wider than the glass thickness. The glass should be free to move within the glazing pocket without touching the frame. The glass should have adequate clearance around all edges, so it does not contact the framing system during static or dynamic conditions. A useful guide to follow in glazing doors is National Glass Association's GANA Glazing Manual.
Place setting and edge blocks only in the locations as shown in the illustration below.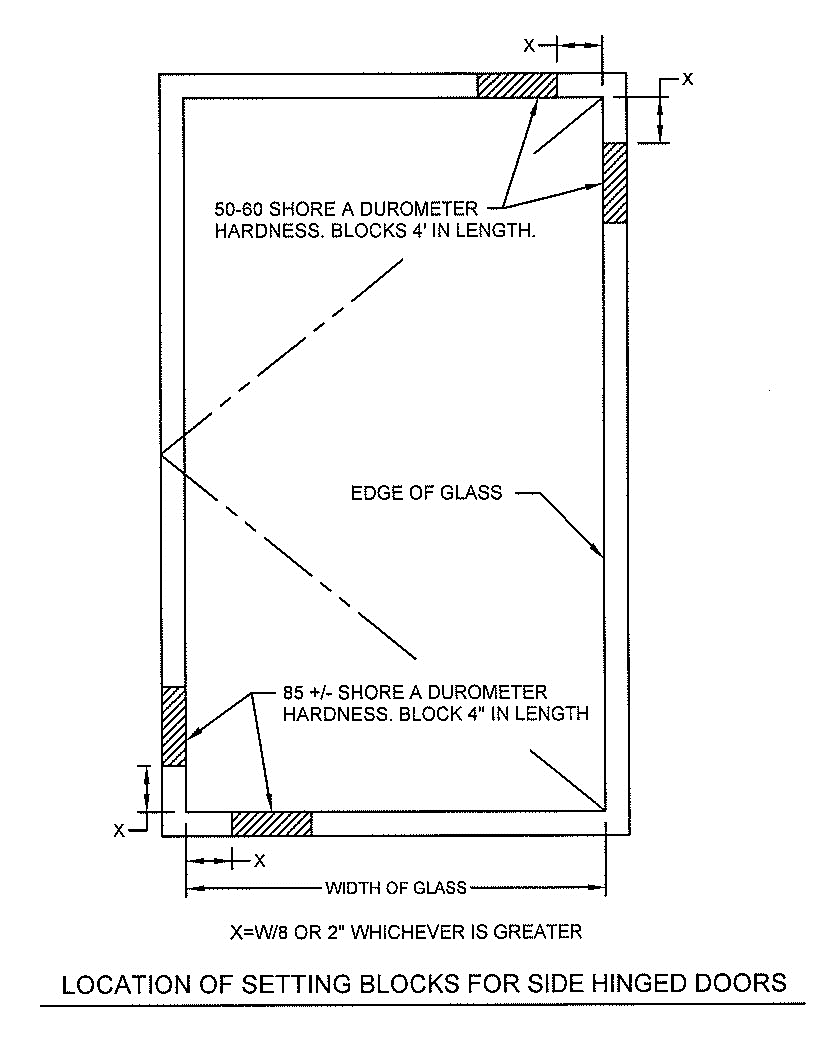 Remove the protective tape from the glazing tape.
Insert the glass, centering it in the opening, and gently press it against the glazing tape.
Usually, the glazing beads are held in place by clips pre-attached to the door frame. Snap the glazing beads into the clips between the glass and the frame. Consult the window manufacturer for instructions about the sequence of installing glazing beads.
Install the rubber glazing gasket between the glass and the glazing beads. It helps to use a mild soap or an ammonia free glass cleaner as a lubricant to install the rubber gasket. If simulated divided lites (SDL's) are present, they can be applied to the glass. Cap bead the SDL's.
Apply a cap bead of silicone sealant to the outside surface of the glass where it meets the frame.